Want to sell your book on Blurb and make a profit from each sale? You can also sell your Blurb book on Amazon or other online bookstores.
Sell your book in the Blurb bookstore
1. Go to your dashboard, find the book you'd like to sell, then click the Sell My Book button.
2. Navigate to the Sales Channel & Profit tab.
3. In the Book Pricing > Your Profit section, enter the amount you'd like to earn on this book. If your profit settings are not already set up, you'll be prompted to enter them. Click the Set Up My Profits button.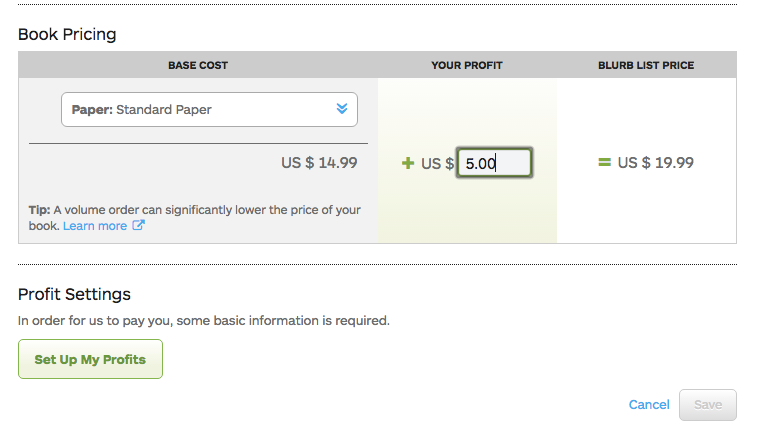 4. On the set up page, we ask for Payment Information so we know how to pay out your profits, and also Taxpayer Information so we can appropriately record your earnings. If you choose to be paid via PayPal, your processing fee is lower than if you choose to be paid by check (USD only).
5. When you complete the information and click Register, you'll then be taken back to the page where you can finish setting up your book for sale.
6. If there is a particular book type that you don't want to make available for sale, click the Set Up Listing button, choose the Don't Distribute option and click Save.
7. Finally, head over to the Privacy & Sharing tab to get the URL to share with your network and watch the sales roll in! At your discretion, you can either announce your book to friends and family, or put your book in Blurb's public bookstore for all to view and purchase.