Cover types
Below are the three cover types available at Blurb. From top: softcover, hardcover dust jacket and hardcover ImageWrap.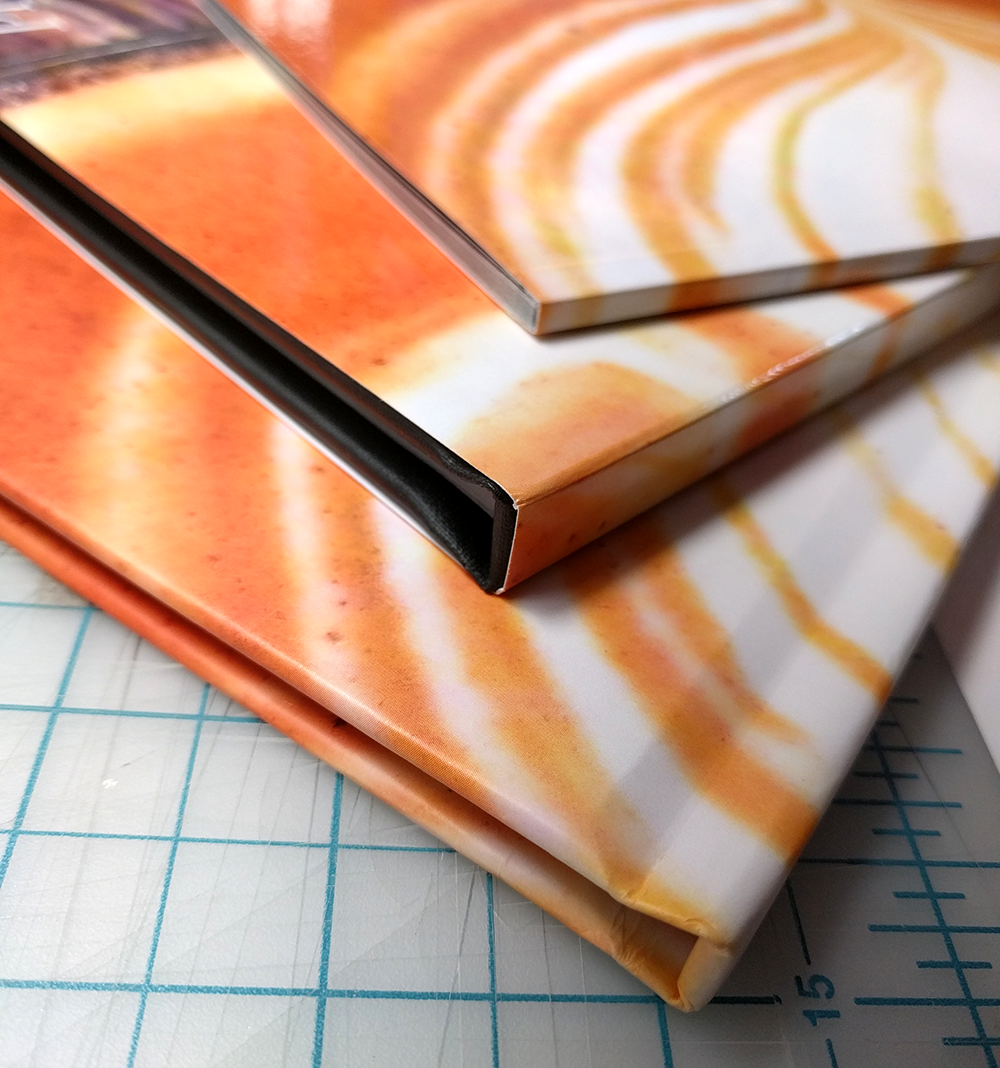 Softcover
Our softcover option is available for most every type of project, whether a Photo Book, Trade book, or magazine.
The softcover features durable perfect binding and a flexible, high-gloss laminated cover. Printing is done on the front cover, back cover, and spine.

There are no cover flaps or end sheets on softcover books.

Softcover is not available for large-format photo books or Layflat books.
Hardcover ImageWrap
Our ImageWrap cover option allows you to print an image which is glued directly on the front and back cover.
ImageWrap covers feature a durable matte finish and perfect binding, as well as end sheets.

There are no cover flaps on ImageWrap books.

ImageWrap is the only cover type available for LayFlat books
Hardcover Dust Jacket
This option features linen hardcover cases wrapped with laminated full-color printed glossy dust jackets and perfect binding, as well as end sheets.
Trade books are available with a slate-gray linen hardcover.

Photo Book formats come with a black linen fabric that you can upgrade to an oatmeal or charcoal color.

Layflat photo books are not available in the dust jacket cover option.

We do not offer the option to emboss or print on the linen covers underneath any of our dust jacket books.
Anatomy of a Dust Jacket
The glossy dust jacket wraps around your linen hardcover book when you select the Hardcover Dust Jacket cover option.



Flaps. Dust jacket flaps fold around the edges of a hardcover dust jacket book. When designing your cover, the back flap will fold around the back of the book and the front flap will fold around the front.

Back cover. This is a good place to include glowing reviews and testimonials, and even a summary of your book. If your book has an ISBN it will be located on the back cover.

Front cover. The front cover can feature your book title, a subtitle, author name, and images you select.
Spine. The spine is a great place to include your title and author name.

Related