The auto image adjust feature built into BookWright  improves most digital image results by slightly lightening and sharpening your photos. These improvements generally translate to better results when you print your book or magazine.
What will auto image adjust do?
Toggling on auto image adjust in BookWright analyzes your image and automatically optimizes it for the printing process by enhancing the darker areas, slightly increasing depth and contrast, and lightly sharpening your image. The feature also may brighten your photo—without losing any of the exquisite details.
Another benefit of auto image adjust is the ability to correct skin tones. For example, faces and skin often appear too red or green in unedited photos. This intelligent technology fixes those unnatural-looking tones without washing out any other colors in the image. It's that smart.
You can also lean on this tool to remove red-eye, improve digital color fidelity, reduce image noise, fix light diffusion, and correct abnormal tint.
What types of images work best with auto image adjust?
Photos from phones or digital cameras (point and shoot)

Images that have a full spectrum of light and shadow and a variety of color tonal value

Colorful pictures with people, landscapes, and objects

JPG, JPEG, and PNG file formats
What types of images may

not work well with auto image adjust?
Images that have existing grain, pixelation, or jaggedness

Photos previously edited for contrast, sharpening, and more

Filtered photos

Illustrations and vector objects like logos or line art
What about black and white images?
Although auto image adjust tends to work better with color images, you should see some slight improvements and image sharpening with your black and white photos.
Note: Please be aware that auto image adjust can also cause graininess depending on the content. We recommend zooming in on your image in BookWright and toggling the feature on and off to determine if it gives you the results you want.
How do I turn auto image adjust on and off?
Place your image on the page or cover of your book. Next, select the image to open the photo tools (example below). Finally, toggle on or off auto image adjust at the bottom of the photo tools.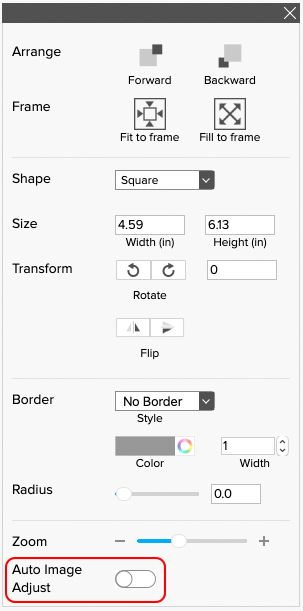 How can I apply auto image adjust to all images?
Open BookWright's Preferences window and select Auto-adjust all images added to project. This will automatically improve all the photos you add to your book project after you've changed this setting.
Note: Selecting this option won't affect images already added to your book project. You'll need to toggle on auto image adjust for those images individually, as explained above.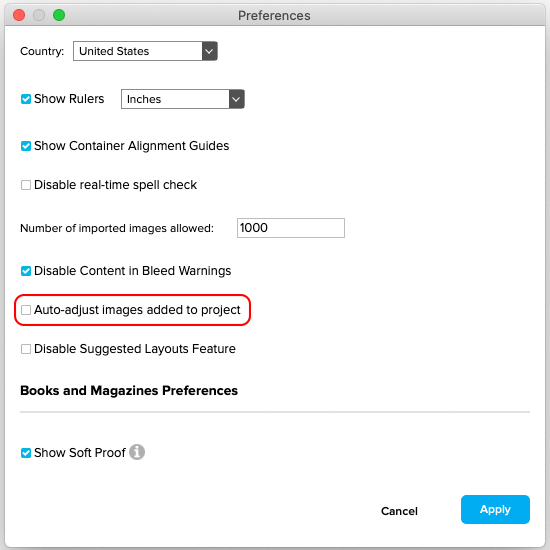 How do I preview the change?
When you toggle on auto image adjust, you'll see an immediate preview of the changes. If the results aren't an improvement, simply turn it off again.
Note: Your printed photo may not exactly match what you see on screen due to variations in monitor calibration, paper characteristics, and printing processes. But this will give you a rough idea of the changes to expect.
If you plan to order multiple copies of a new book, we recommend you order and review a single proof copy before placing your larger order.
Auto Adjust Image disabled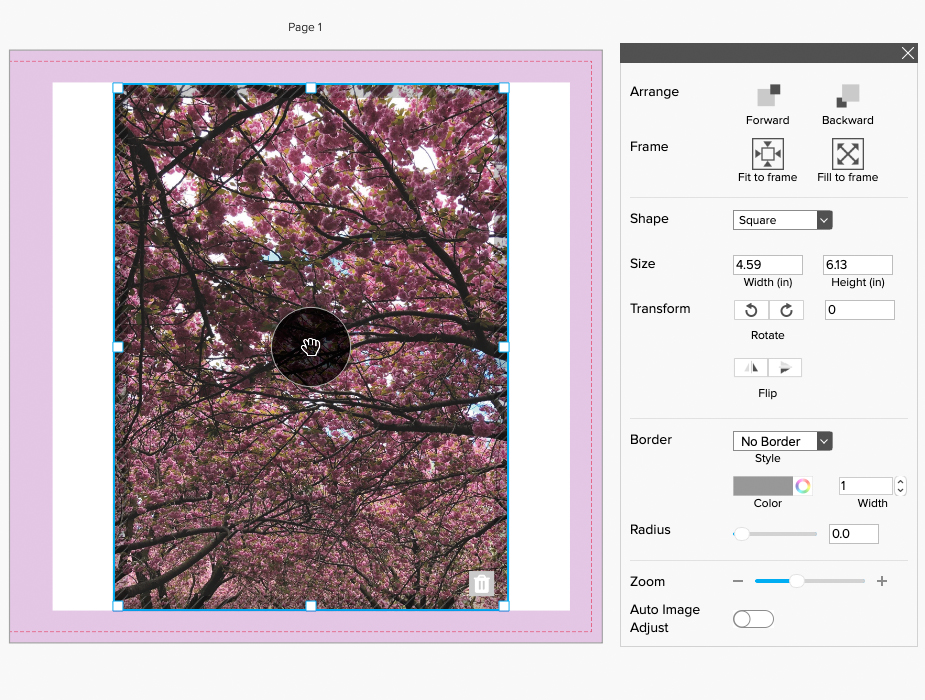 Auto Adjust Image enabled