You're finished creating your book, hooray! Have you proofread each page and previewed your book? BookWright has handy tools that alert you to any errors and let you preview what your book will look like. Before you upload, be sure to fix any errors and preview your book. These tools are in the upper right corner of BookWright.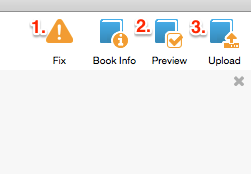 1. Fix any issues that BookWright flags. 
Click the Fix icon to get a list of any possible issues with your book. For example, you may have text that is too close to the edge, or you included a low-resolution photo. Review all of the potential issues and fix as necessary.
2. Preview your book   
Click the Preview icon to get a sense of what your book will look like when printed. This is a good spot for you to proofread your book page by page.
3. Upload your book
The last step is to upload your book to Blurb so that we can print it or create a digital version for you.
Click the Upload icon to begin this process. You'll be prompted to log in to Blurb so that we can connect your uploaded book to your Blurb account. Immediately after you log in, we'll begin the upload, so hang tight if you have a large book.
You'll then be prompted to select a print or digital book upload to buy or sell.
Next, we provide a final spell check for you. (You forgot to do that, right?) Make your corrections or if everything looks good, click Next. We also show you a preview of your cover for review. Look good? Click Next again.
We then continue the upload by rendering your file. It may take a few minutes, so sit back and relax.

The last step is the final upload, and BookWright will automatically begin this once the book rendering is complete. This step may take a long time depending on your book file size and the speed of your internet connection. When the upload is complete, BookWright will launch your browser and display options to purchase your book or set it up for sale.