Using our PDF Uploader to upload your book for printing? If so, preview your PDF carefully before you upload it. Then, if everything looks good, upload your PDF. After the upload completes click Preview Book to review the cover and pages and pay extra attention to the following:
Keep important content (text, tops of heads, etc) at least 1/4 inch from the black dashed trim line. 
If your content is too close to the trim line, check the specs for Margins/Safe Boundary on our specifications page, adjust your original file, and upload and preview again.
Make sure your bleed designs reach all the way to the page edge/bleed edge and not just the trim line.
Examples
In this upload, the hat is far enough from the dotted trim line. It won't be trimmed off.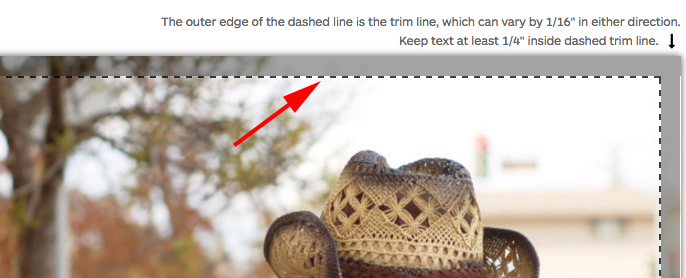 Here, the hat's much too close to the black trim line. It might be trimmed off.

The text below is far enough from the dotted trim line. It's not at risk of being trimmed off.